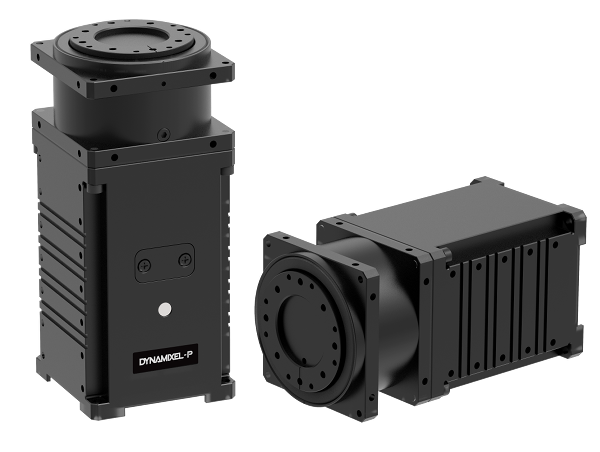 Product Lineup

DYNAMIXEL-P Lineups
NOTE: DYNAMIXEL PRO+ is renamed as DYNAMIXEL-P.
Revised Date: Jan 2th, 2020.

Revised Model Name: See the following table.

| Previous | New |
| --- | --- |
| H54P-200-S500-R | PH54-200-S500-R |
| H54P-100-S500-R | PH54-100-S500-R |
| H42P-020-S300-R | PH42-020-S300-R |
| M54P-060-S250-R | PM54-060-S250-R |
| M54P-040-S250-R | PM54-040-S250-R |
| M42P-010-S260-R | PM42-010-S260-R |

Integrated robot-driving device : Contains all necessary features for robot joints integrated into a single module.

Strong and durable reduction cycloid gearing : DYNAMIXEL-P implements removable reduction cycloid gears. Small and lightweight cycloids allow a high-ratio reduction gear device. Also cycloid gears are more resistant to vibrations and impacts resulting in minimal backlash.

Variety of models : DYNAMIXEL-P motor, reduction ratio, communications type, etc have been accommodated to meet various price ranges. The user is able to choose the most proper DYNAMIXEL-P model necessary for the robot.

Variety of control algorithms : DYNAMIXEL-P adopts position, velocity, and electrical current control algorithms. The user can control these 3 aspects in any combination and properly tune the robot. DYNAMIXEL-P provides a graph illustrating the relationship between electrical current and torque. This feature is useful for torque control via current control.

Precision control : With a maximum of 1,003,846 resolution, users can control about 0.0004 degrees per unit allowing for high-precision control.
Key Specifications
Communication Circuitry
Connection to UART
To control DYNAMIXEL-P with a custom made Main Controller, the signal of Main Controller UART should be converted into RS-485 signal. The following is a recommended conversion circuit diagram.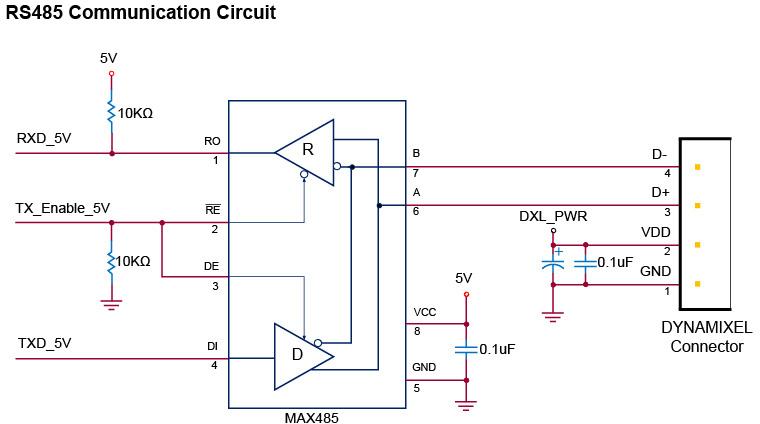 NOTE: Above circuit is designed for 5V or 5V tolerant MCU. Otherwise, use a Level Shifter to match the voltage of MCU.
The power is supplied via Pin1(-) and Pin2(+) of DYNAMIXEL. (The above circuit is built into DYNAMIXEL-only controllers)
In the above circuit diagram, the direction of data signal of TxD and RxD in the TTL Level is determined according to the level of TX_Enable_5V as follows:
If TX_Enable_5V = High : The TXD_5V signal is transferred to D+ and D-.
If TX_Enable_5V = Low : The D+ and D- signals are transferred to RXD_5V.
Pin Arrangement
Connector pin arrangement is shown below. DYNAMIXEL-P has two 4-pin connectors arranged in pin-2-pin configuration. In this arrangement there's no priority in the connector order and DYNAMIXEL-P can be driven like the MX-series.
Additionally there is a 2-pin connector dedicated for power input for high-current operations.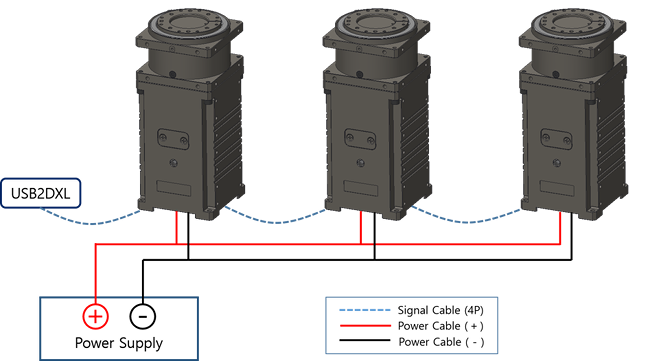 WARNING : When wiring please pay attention to the pin arrangement. Incorrectly connected DYNAMIXEL-P may be damaged severely.
Confirmation of Connection
The LED of DYNAMIXEL-P flickers once if the power is supplied to DYNAMIXEL-P properly via wiring.
Drawing
The output horn has been redesigned. Please refer to below comparisons between DYNAMIXEL PRO and DYNAMIXEL-P.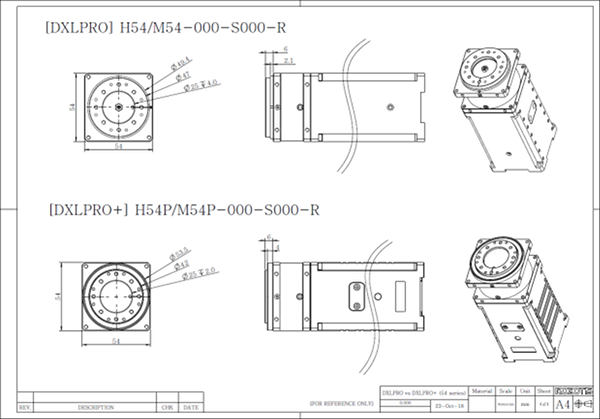 Please also checkout ROBOTIS Download Center for software applications, 3D/2D CAD, and other useful resources!